Vegas and Atlantic City have cornered the market on casinos, somewhat unfairly. There are numerous casinos dotted throughout the United States, many of which are breathtaking, versatile, and located in cities with more to offer. Plenty of them are just as luxurious as anything you can find in Sin City, plus you get to play in a quieter, more low-key atmosphere, which can increase your enjoyment tenfold.
Niagara Falls Is a Double-Threat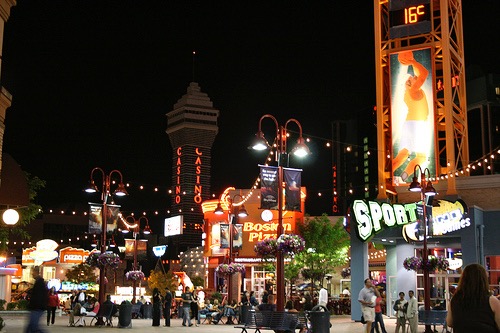 Image via Flickr by David Flores
Folks throng to Niagara Falls to see the falls themselves, to climb aboard a boat and float right through them, and to rediscover romance in charming, kitschy hotel rooms with heart-shaped Jacuzzi tubs. The city captures tourists on both sides of the border thanks to the influx of casinos popping up in New York and Ontario. Stateside, you can play at over 100 tables and pull 4,000 slots at the Seneca Niagara Resort & Casino. On its side, Canada boasts the Casino Niagara and the Fallsview Casino Resort with 145 game tables and 4,500 slot machines between them.
Lake Charles Is Louisiana's Finest
When you think about Louisiana, your mind first goes to New Orleans or Baton Rouge. Maybe Lake Charles hasn't appeared on your radar yet, but get ready for it. It's only a couple of hours away from Houston, but you aren't likely to wander once you arrive. The L'Auberge Casino Resort offers 70,000 square feet of betting fun. The main area has 70 tables and around 1,600 slots, or you can head to the High Limits Salon. It even has a dedicated poker room and a semi-private table just for high stakes play.
Bet on Biloxi, Mississippi
Image via Flickr by Mark Goebel
The South has a reputation for betting that evokes images of riverboat gambling at a leisurely pace that belies the cutthroat games inside. The genteel city's casinos are a bit like similar, with locals who smile with genuine hospitality as they take your money. It's worthwhile to check out hotels in Biloxi so that you're close to Beau Rivage Casino, the Hard Rock Hotel & Casino Biloxi, and the IP Casino Resort, among others. In between your time at the slots or the tables, you can visit Beauvoir, the seashore, or the Maritime & Seafood Industry Museum.
The Sun Rises in Uncasville, Connecticut
Uncasville is home to Mohegan Sun, one of the largest casinos in the country, which actually contains three separate casinos: Casino of the Earth, Casino of the Sky, and Casino of the Wind. You can explore three floors devoted to gaming and try your hand at any one of the 42 poker tables, 275 gaming tables, and 5,000 slot machines. There's even an area specializing in table games popularized in Asia, such as Baccarat and Pai Gow Poker. Because Connecticut is in New England, you could visit nearby states or travel to Mashantucket, CT, and play at the Foxwoods.
Atlantic City and Vegas attract the attention, but they're not the only places to gamble. Where do you scratch your betting itch?